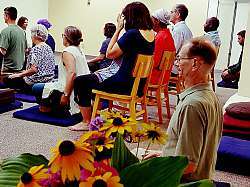 Meditation / Open Sitting
Shamatha (Peaceful Abiding) Meditation
One hour of sitting (two 25 minute sittings) and walking (10 minutes between sittings) meditation is followed by a short reading and contemplation. All are invited to stay for tea and conversation. Sitting begins promptly at 7PM.

Meditation Instruction is Available
Please arrive no later than 6:50pm for the Thursday evening group if you wish to receive instructions or contact our head of practice and education (716-882-1194) or email [email protected] to schedule a private session.
Third Thursday
After our regular one hour of sitting and walking meditation, a DVD or audio dharma talk is offered by one of the Shambhala teachers.
Donations
There is no charge for this event or for meditation instruction. Donations, of course, are welcome ($5-10 suggested) but no one will be turned away for lack of funds. Your generosity helps us pay the rent and keep the group's cupboards stocked with tea.
If you would like to become a supporting member the meditation group monthly donations can be automated. Monthly donations are greatly appreciated and as a supporting member you will recieve a mambership pin as well as disounts to some of our paid classes. If you would like to make a one-time online donation you can do so by following this link.