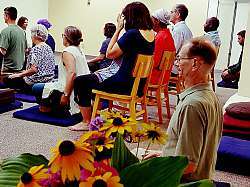 Second Sunday Nyinthun
Second Sunday
On the second sunday morning of each month we offer a longer session of meditation (Nyinthun) to deepen our practice.
As with the Thursday evening sessions this is Shamatha (peaceful abiding) meditation consisting of alternating sitting (25min) and walking (10min) meditation.

You are welcome to join this meditation session at any point during the morning hours.

Meditation Instruction is Available
There will generally be a meditation instructor or guide available should you want to check-in with them or disucss any aspects of your practice. Please speak with one of our volunteer staff if you wish to have a brief check-in or contact our head of practice and education (716-882-1194) or email [email protected] to schedule a private session.


Donations
There is no charge for this event or for meditation instruction. Donations, of course, are welcome ($5-25 suggested) but no one will be turned away for lack of funds. Your generosity helps us pay the rent and keep the group's cupboards stocked with tea.

If you would like to become a supporting member the meditation group monthly donations can be automated. Monthly donations are greatly appreciated and as a supporting member you will recieve a mambership pin as well as disounts to some of our paid classes. If you would like to make a one-time online donation you can do so by following this link.